FLIGHT CLUP COIN
Flight Clup is a decentralized community led by elite cryptocurrency and blockchain experts. Flight Clup, which has a unique ecosystem, is a public, blockchain-based platform equipped with the highest technology that anyone who wants to change their life can benefit from.


Now available on Pancakeswap!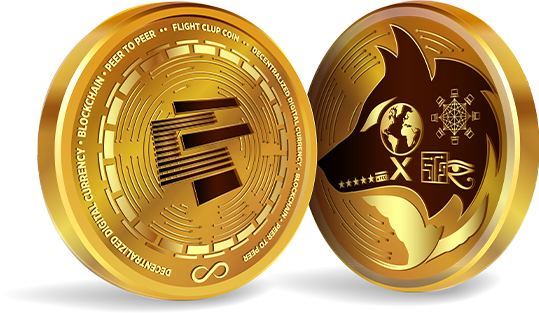 PROBLEM SOLUTIONS
The blockchain system is not fully understood today. Even 1% of the world is not aware that the blockchain system solves many problems in the world with zero errors.
The system of earning by contributing to the operation of the blockchain system has existed since the emergence of Bitcoin. However, mining BTC is a very, very costly business. It also requires serious technical knowledge.
Flight Clup allows you to contribute to the operation of the Blockchain system together with the Flight Node. You can produce coins without technical knowledge and high costs. In addition, because you approve the transfers, the system also earns you coins from the transfer fees.
ROAD MAP
UBUNTU

Competitive Advantages of UBUNTU
We already created several unique competitive advantages to get a vital market share in the cryptocurrency trading market using UBUNTU with artificial intelligence.
It has professional visionaries engaged in the creation and development stages.

The team periodically monitors UBUNTU's work to provide a basis for further development.

UBUNTU is more effective at dramatically changing market conditions with artificial intelligence that can quickly adapt itself to the needs of the market.

It offers functional, user-friendly, simple and secure usage.

It offers different modes depending on the user risk management, and new modes are under development.

Safe Mode and Risky Mode (Binance Exhange, Through API)
Mode: Safe, Balance < $1000: 1 Coin/Token, Balance ≥ $1000: Up to 2 Coin/Token, Purchase Mechanism: Balance is divided into 4 parts 2 purchase steps, Guarantee: 60% Annual.

Mode: Risky, Balance < $1000: 1 Coin/Token, Balance ≥ $1000: Up to 2 Coin/Token, Purchase Mechanism: Balance is divided into 6 parts 3 purchase steps.
Rental Fee Back Guarantee
Rental Fee Back Guarantee is only limited to Safe Mode users. Users rent out UBUNTU on a yearly basis. Users whose annual earnings are less than 60% despite fulfilling the following conditions, can get back the rental fee.
Each user must connect API codes and deposit USDT to a wallet on Binance within 15 days after the rental starts.

UBUNTU must be run in Safe Mode.

When UBUNTU makes a purchase in any cryptocurrency, the balance should not be withdrawn until it switches to 100% USDT.

Users can withdraw the profits made by UBUNTU throughout the year while all balance is 100% USDT.

The user needs to keep the balance on the exchange at least twice the annual rental fee.

The user should not interfere with UBUNTU manually in any way. For example, manually selling a cryptocurrency purchased by UBUNTU or making more purchases manually from the lower levels compared to UBUNTU's purchases.

User must not delete API through login Binance, after saving the API codes to UBUNTU. Even if the user has done this by mistake, the relevant user must connect the active API code again within 24 hours at the latest.

FLIGHT WALLET
Flight Token will have a mobile compatible decentralized wallet. Users will be able to download this wallet from Playstore and Apple Store and install it on their phones. Staking rewards earned by people who buy Node and stake here will be instantly reflected in their wallets. Those who wish will be able to withdraw and sell their tokens to exchanges traded on the exchange.
FLIGHT DEX
The concept of decentralized stock market, which we have become familiar with in the last 2 years, is the biggest candidate to be the ultimate future markets of cryptocurrencies. Because the basic logic and appeal of crypto money is the concept of decentralization. Centralized exchanges used today do not represent this concept. People have to trust an intermediary institution such as a bank instead of blockchain technology. Therefore, the future is decentralized exchanges.

Flight club has adopted the UBUNTU philosophy and always believes in the power of sharing. All earnings of Flight Dex decentralized exchange belong to Flight Coin and Flight Node owners. Think about it, what would you do if you were a shareholder of a stock market? As the customer of the stock market increases, your earnings will increase, in this case, you would recommend it to everyone, right? Tens of thousands of partners, everywhere, every day, will naturally grow Flight Dex, this is an obvious topic. Be one of the first and take your place.